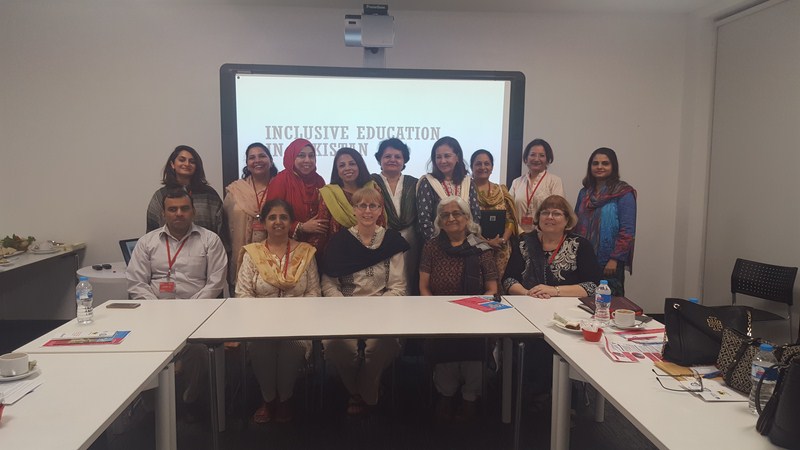 Developing the role of Occupational Therapy
in Inclusive Education in Pakistan
A team of researchers consisting of teachers and occupational therapists used Collaborative Action Research in three local schools in Karachi, working together at whole school and classroom level to develop strategies, materials and lesson plans that enable children with special needs and their classmates to learn and play together effectively. The ultimate aim is that all children with disabilities and other special needs will be enrolled in mainstream schools and that all children will be taught the same curriculum, instead of segregating children into different schools. This project was funded by The British Council Pakistan and the Higher Education Commission of Pakistan, but this has now come to an end.
All the processes and products were recorded systematically in reflective logs, which were used to produce a book "Inclusive Education in Pakistan: A Resource Guide for Teachers and Occupational Therapists". As the name suggests this is a very practical book, which supports mainstream schools to become more inclusive of children with disabilities and special needs.
To know more about this please click the link of "The Project".
If you wish to order a print copy of the Resource Guide, please email at [email protected], providing your name, profession, school or clinic name and address. We can only send print copies within Pakistan.
Latest Updates
Inclusive Education - the way forward!
Presenting the action research project at the 5th International Conference by Kazim Trust."
Download Resource Guide
Register with us in order to Get your Free Copy of Resource Guide
Please enter your details in order to download the Resource Guide. By entering this information you agree to filling in a questionnaire which will be emailed to you after a few months